SEA SOIL Testimonials
SEA SOIL Success Stories
Sea Soil Is The Only Product That I Have Ever Used In My Garden
My shirt gets dirty every week but is holding up well in the wash so far. I laugh every time that I put it on. Very cool! Sea soil is the only product that I have ever used in my garden. I was introduced to it by the nice folks at Garden Works. I love the results. Best regards, Gordon
Gordon
3/4 Acre Garden
Thought I would send these pictures of part of my garden that we started landscaping from scratch last winter and planted spring 2006. These pictures were taken this Saturday when it was slightly misty. This is part of a 3/4 acre garden in which we used 85 yards of sea soil on sandy rocky soil in Qualicum Beach. Thank you for your assistance.
Garden photo no. 1
Garden photo no. 2
Garden photo no. 3
Garden photo no. 4
Sandy
Three Months of Beautiful Flowers!
Here are our photos....the Peones and Calla lilies have been just spectacular this year! We have always had pretty good crops of peas but this year we top dressed the row with seasoil and we have never had such production! They were just fantastic! This garden thrives in Seasoil! Our perennials are so happy and have gifted us with such splendid blooms and colour!
Our flowers in June
Our flowers in July
August flowers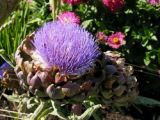 More August flowers
Ken & Marjorie